We must embrace all available technologies if we are to make a real impact on reducing the greenhouse gas emissions from transport. While we strive towards electrification, we must not forget about all the existing internal combustion engined vehicles on the road, including all those that will be sold between now and any phase out dates.
We must also not forget about the sectors that are harder to electrify such has heavy goods vehicles and aviation. Unlike electric and fuel-cell vehicles, sustainable fuels offer an opportunity to address these issues while we transition to new forms of mobility.
At Coryton, we have been developing a range of second-generation advanced bio-gasolines, derived from agricultural waste, that conform to the EN228 specification. On this particular project we partnered with Cosworth to demonstrate the drop-in nature of various bio-gasolines, by characterizing the combustion effects of high bio-content EN228 gasoline fuels in two different engines.
The results serve to illustrate how these fuels could be used as partial (in the form of blending) or direct replacements for fossil fuels to reduce the greenhouse gas (GHG) emissions from road transport with minimum impact on the consumer.
The Sustainable Fuels & Processes Involved
The sustainable gasolines used in this study are produced in two main stages. The first stage is to generate bio-ethanol from waste biomass; in our case this was agricultural waste such as straw. First, this lignocellulosic biomass is pretreated to improve the accessibility of enzymes. After pre-treatment, the biomass undergoes enzymatic hydrolysis for conversion into sugars which are then fermented to ethanol by the use of various microorganisms (Figure 1).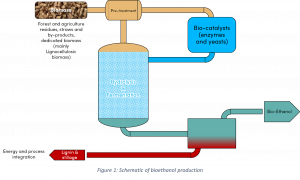 This bio-ethanol can then either be:
Added directly to a fossil-based gasoline in blends of up to 5 or 10% (E5 or E10) dependent on the territory
Further processed into bio-gasoline in order to increase the bio-content of the final fuel well beyond the pure bio-ethanol blend wall
For the further processing into bio-gasoline, the bio-ethanol is first dehydrated into ethylene and then "grown" into longer chain hydrocarbons in the presence of a zeolite catalyst at ~300-400°C.  The raw bio-gasoline requires blending in order to comply with the EN228 specifications.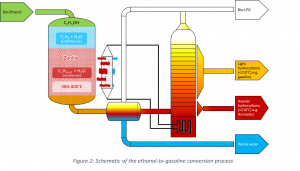 In this study, 3 different bio-gasolines were blended as shown in the table below.
As can be seen, that variation in the requirements for octane and maximum ethanol content can require the use of some fossil components in order to meet the specification, but it is expected that bio or synthetic versions of these components will become available and further improvement in GHG savings can be expected.